Communication is the key to success
Louise Lapish Director of Gatewood Consulting  is a proud friend and sponsor of Simon on the Streets  a Yorkshire based charity who offer individual support to those who are homeless; at risk of becoming homeless; those with behavioural & mental health issues; and those fighting addiction.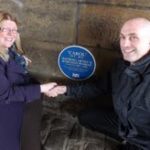 "Simon on the Streets aims to be there for these people and help them to access the services that they need to make positive changes to their lives"
The reason Louise chose to support this charity was at the heart of everythjing they do is communication. The individual work they do, listening, understanding and enabling individuals to make the positive changes they need.
Louise said: " I am delighted to be able to help, the blue plaque campaign recognises that everyone has a place, they are usually to commerate famous people, Clive and his team are recognising everyone and I am looking forward to continue working with them It is great to see the pasion of everyone involved."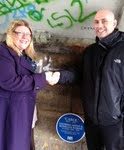 Louise was touched by the many stories Clive Sandle and his team shared with her, several were tragic others inspirational. Either way they have ensured Gatewood Consulting Ltd will be getting more involced moving forwards.
You can find out more about the amazing work that the charity do at http://www.simononthestreets.co.uk/