All I want for Christmas is a new job…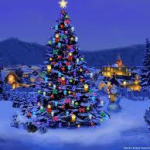 The unemployment figures appear to be delighting in festive cheer as they slide downwards quarter after quarter. It has been some considerable time since we had good news and clear indicators that we are on the road to recovery. It does raise the question if Father Christmas was going to put your dream job in your stocking what would that be? If the world doesn't end, how are you going to make 2013 work for you career?
Careering out of control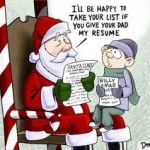 Did you ever make a conscious decision about which career path you wanted to go on? The English dictionary definition is a chosen pursuit or occupation. Do you consider that you made a choice or was it more a series of incidents that set you on the path.  How many of us left school or university, took the first position we were offered then worked our way through the hierarchy. The other alternative was to try few different roles until we found one that felt like a good fit.
I spoke to someone recently who said the only enjoyment he used to get at work was trying not to do any work – he was left unchallenged, bored and frustrated. This doesn't just happen at the early stages, how many people have wondered if this is it for their career? What did you want to be when you were a child and are you doing your dream job?
A few lucky people have a true vocation; they have always known what they wanted to do. This can be very difficult for their friends and siblings as they are left flummoxed in their own choices. The most common route is to fall in to a sector and there we stay. I know how lucky I am to love my job, the old cliché rings true. Find a job you love and you gain five extra days per week. It has always astounded me how people are "stuck" in their career rut, spending day after day counting down to the weekend. Their Monday morning updates making it clear they are wishing away the hours until the next weekend. Sometimes redundancy can be the wakeup call needed.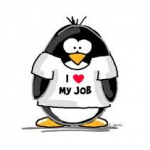 Redundancy or Wakeup call?
Redundancy can come as a bolt out of the blue for some, for others it can almost be a relief. When fate deals you the cards of change – you can either hold them close to your chest or choose to play. Mindset is crucial in terms of creating opportunity. Is your glass half full or half empty? Or should we simply be grateful that there is something in the glass?
Many have my clients have had difficult times before they are made redundant, or it has been handled badly by the organisation. Resetting the positive can be the most difficult part. Anyone can secure a new position if they want to- with the right help and guidance this becomes even easier. So what should Christmas, the end of the Mayan calendar and the end of 2012 give us? What challenges are you currently facing in your career or job hunt?
Take the career bull by the horns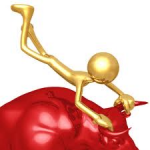 Now it is time to take the opportunity, try something new or different – don't let this resolution fall away like all the others. Discover what opportunities are out there for you and then put an action plan in place to go after it. If you have never taken the time to decide what it is you really want to do then make 2013 your year. What does your ideal job look like, which of your skills would you most like to maximise, which parts do you want to leave behind? Life is all about making choices- is it time you chose a career that gives you back those days between weekends?
Book your one to one consultation now find out how our flexible career packages can help you redefine your choices and get the career you deserve.