Gatewood Consulting Ltd works with your team to ensure that they are attaining peak performance and getting the results you need. Working with you to understand what your business really needs, from facilitating Employee Engagement temperatur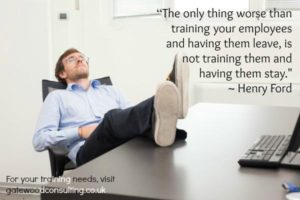 e checks; supporting through cultural change programmes; embedding vision and values and then delivering a bespoke solution; with our breadth of training and coaching knowledge our solutions arm  delegates with practial and real life ways of driving performance improvement.

This partnership approach coupled with our passion for positivity has ensured organisations are at the top of their game, and our tailored solutions have helped hundreds of people, change their life, develop and practice new skills, increase team motivation and achieve long lasting results.  If you want to find out how our solutions can work for you then contact us.   Is it time to empower your team and to make a positive change?
Investing in yourself has never been more important to keep you ahead of the competition and achieve the career results you want; our CPD Accredited coaching has proved popular with people at many different stages of their career. Are you expecting your current or future employer to manage your career for you?
Are you: wanting to gain promotion; secure a new job; change direction; finally uncover what their dream job is. Our bespoke coaching solutions work for you a lasting positive impact on your life. Life is too short to be in a job that you hate, find one that you love.
Testimonials
Louise is professional, succint and right up to date. I have no hesitation in recommending her services for those looking to target higher income positions

Having battled with the system for 9 months Tried to make a very successful / diverse 30 yr career fit onto two pages I engaged Louise What I got was a Supportive, Creative, Knowledgable, Punctual and Detailed responce with the resulting document hitting the spot exactly. I cant recommend Louise high enough.

I contacted Louise at Gatewood Consulting with regards to furthering my career overseas. I found her helpful, friendly and extremely professional.

The design and feel of my CV proved a major contribution to me being appointed in my dream job covering Australasia and Singapore. I am very grateful for the time and effort she put in and have no hesitation in recommending her and Gatewood Consulting to others in the future.

Louise was a very effective and efficient career consultant. In addition to the provision of an excellent end product, she provided motivational confidence coaching to help me change my career perspective. Using my own background of communications she helped me understand myself as a product that need packaging and promoting to show my full potential. I also appreciated her ability to challenge my preconceptions to stimulate, restart and widen my creative thought processes, so I could carry this through the career change journey.

Louise Lapish provided me with a career coaching session following my decision to leave Opera North and explore. The preparation she made before the meeting was superb and she came to the meeting full of excellent ideas and suggestions, many of which I hadn't considered prior to the meeting.

Her expertise, her knowledge of CVs was excellent and helped me craft a better results driven CV. The new CV provided me opportunities within a week of the meeting and which has secured me securing job interviews and meetings.

Her positive approach was infectious and I came out of the session convinced that I would be able to change my career path easily. I wouldn't hesitate in booking another session with Louise should I need it.

As a professional looking for a new approach to my career, I worked closely with Louise and found her to be a great motivator and someone who objectively challenged ideas and plans with a great understanding of all elements of business. Louise understands people and helps establish long term goals to ensure the focus is not just on your current or short term objectives, and changes the thought process around career progression. I am looking forward to working with Louise again and have no hesitation in recommending her.

Louise, helped identify areas in which sales people needed development through coaching. Introduced and helped implement new ideas to drive performance from a telesales team and also enhanced the recruitment process for team members. Louise provides realistic and practical ideas and brought a positive increase to both activity and revenue performance. I would recommend Louise to anyone who is looking for hands on help in developing sales people and increasing performance and recruitment of new telesales people.

The classified advertising sales team at Newsquest had fallen behind in terms of sales techniques, processes, quality control and customer service to meet the needs of the customers in the current climate. Staff were resistant to change and suspicious of new people.
Louise came into to deliver a telesales training programme and was able to quickly build trust with the team without compromising on standards, had a significant impact on quality as well as helping the sales executives identify new opportunities. Her work delivered significant return on investment in her time on the sales floor! Her work is highly recommended.

The courses that we have done through Louise (Gatewood Consulting) has been inspiring and life changing. The impact it's had on the company's development has been invaluable. Thank you!

After engaging the services of Louise it quickly became apparent that Louise knew what she was talking about. I wanted to move away from Operational management which I had been stuck in for some years and move up a level. Lacking in confidence Louise provided me with a step-by-step process which over time changed my thought process completely and made me belief that I could make that next step and as they say the  proof is in the pudding just three months later I have made the transition to Operations Director with a Web Design company.  Nothing comes easy though and Louise will make you work hard but the results are fantastic so stay with it